100% Recycled Toilet Paper (48 rolls)
Most

premium

and

luxurious

toilet paper available.

Bonus 4

ply for extra thickness.

100% Recycled. No Blends.

Soft, strong, white

Eco-friendly, forest-friendly & sustainable

Hygienically individually wrapped

Soybean printing ink on packaging

No inks. No dyes. No scents. No fragrances.

No chlorine

No plastic

FSC certified

The lowest carbon footprint of all the products!

Social Traders certified

A box of émotions contains:


48 x 100% Recycled toilet rolls




360 Sheets x 4ply




Diameter: 12 cm per roll




All deliveries are 100% Carbon Neutral

Premium quality guaranteed or 100% refund, no questions asked.

50% of profits donated to Australian mental health organisations Lifeline, Beyond Blue and Black Dog Institute.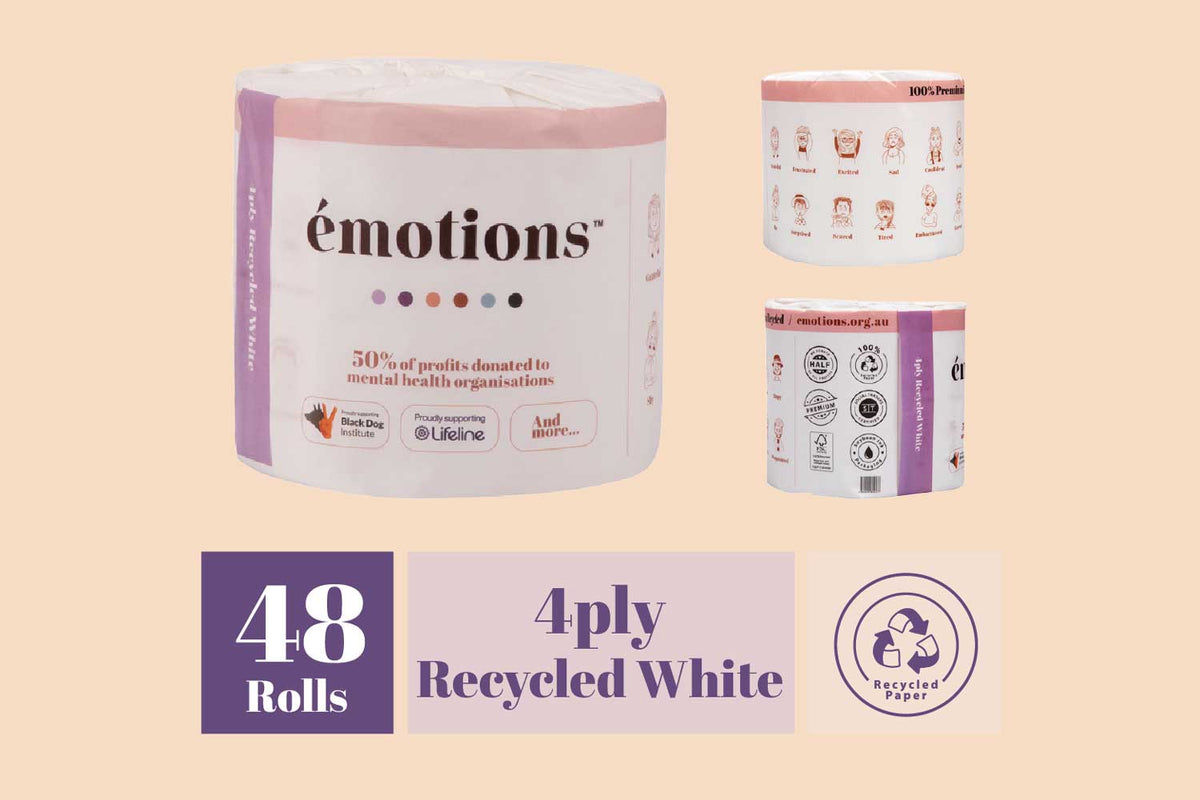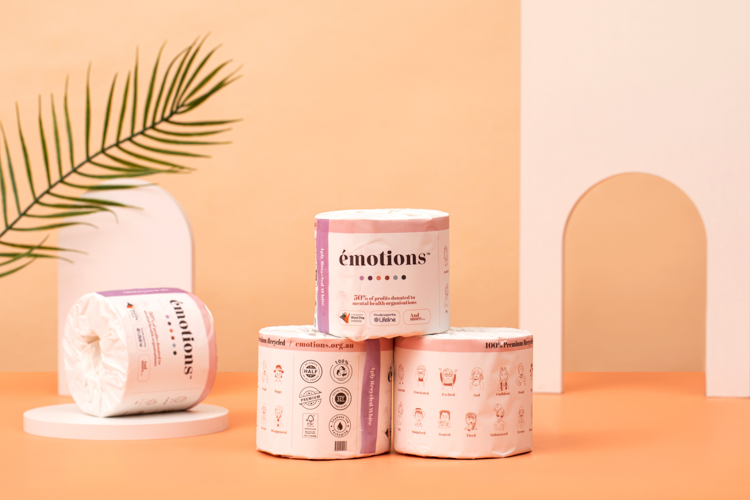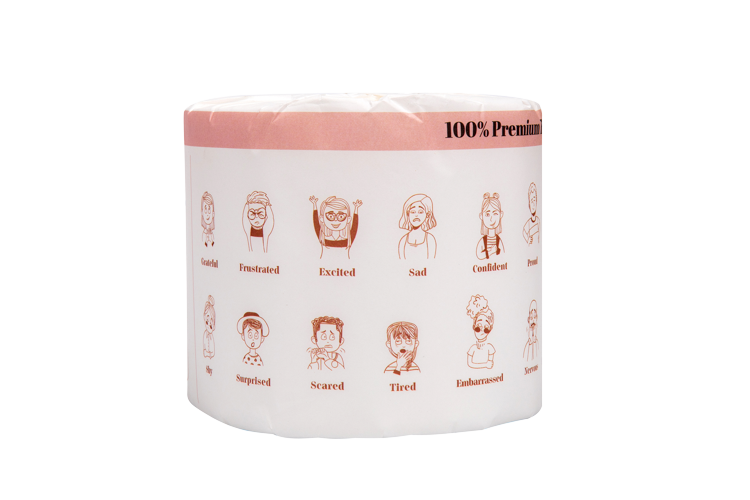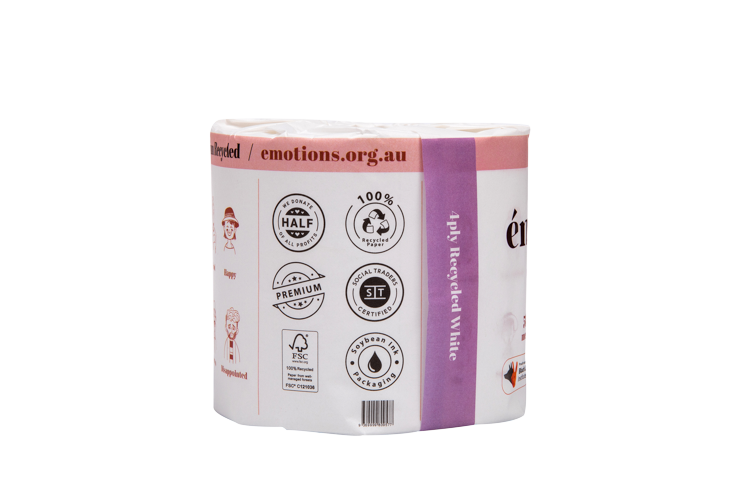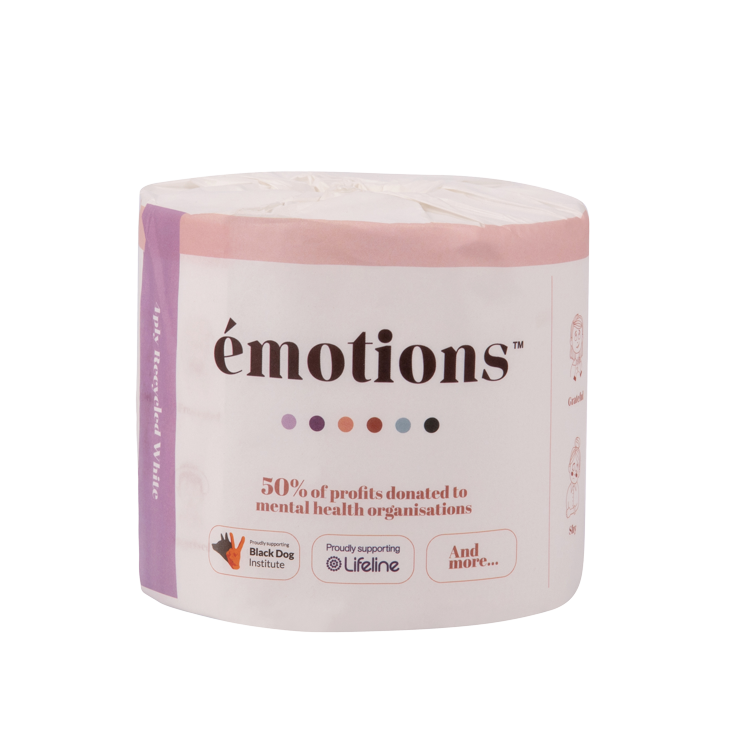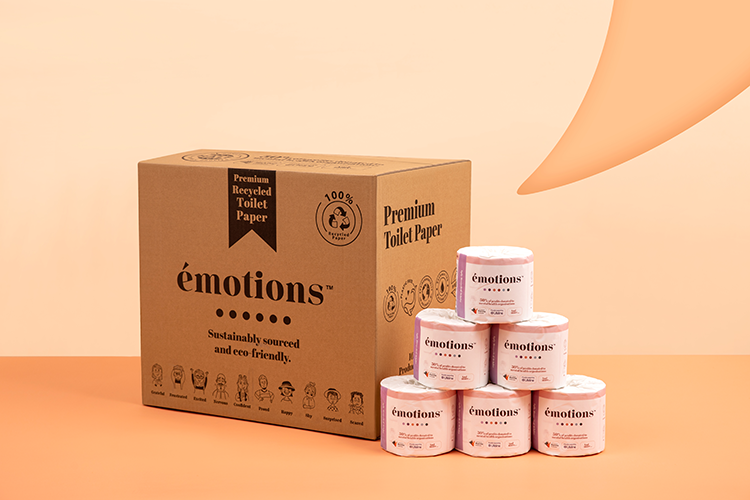 Why do we donate to, and why?
We have chosen three national mental health organisations, each doing vital high-impact work. Through these three together, we have reach throughout Australia. Everyone who buys products contributes directly back to support our Australian community.
Beyond Blue:
Provides research, early detection, prevention and treatment to support mental health.
Black Dog Institute:
Researching the early detection, prevention and treatment of common mental health disorders.
Lifeline:
Lifeline: Provides 24 hour crisis support and suicide prevention services.We encourage you to visit the 'Our Story' page to learn more about these organisations and their powerful work.
How do subscriptions work?
You have the option to select "subscription" instead of "one time order" and we'll send you a regular deliveries direct to your door however often you choose. We'll email you a few days before your next order to make sure you would still like the delivery. If not, you can skip that order in your Member Area or by replying to our email. We have provided recommended frequencies based on the number of people in your house, and you can tweak your frequency as you go, pause your deliveries, or cancel your subscription at any time. No pressure, no hassle, we prefer you to love us with the ability to leave us! If you prefer us to make the changes instead of doing it in your Member Area, you're absolutely welcome to email us at info@emotions.org.au
Bulk orders, wholesale and distributors
We love sending out bulk orders! Please get in touch with via this
Wholesale page
How long will it take to receive my order?
All orders leave the warehouse within 24 hours of order on weekdays.
What payment methods do you accept?
We accept different payment methods depending on if you do a once-off order or a subscription order. For once off orders, we accept: Visa, Mastercard and AMEX, Afterpay and Paypal For subscription orders, we accept: Visa, Mastercard and AMEX
Do you offer refunds?
Premium quality guaranteed or 100% refund, no questions asked.
People who bought this also bought these items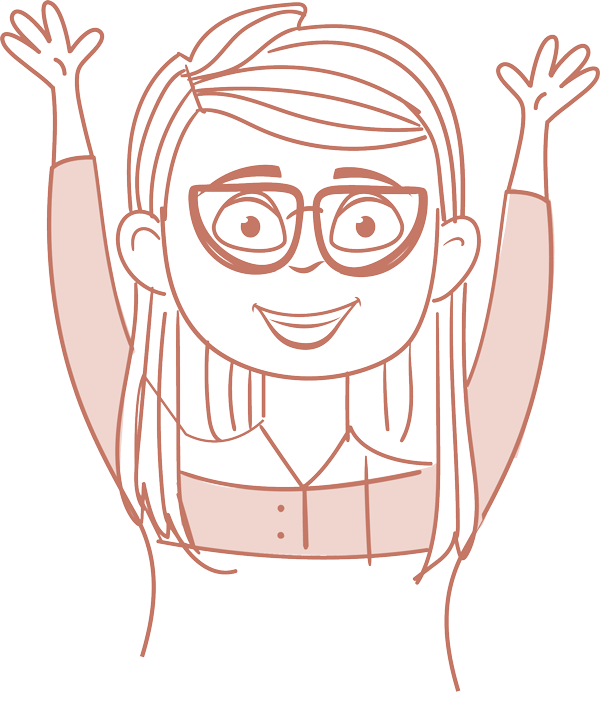 Did you know?
If you switch to a subscription you can receive free postage, used discount code in the header